i
What do they want, these dream-men, who hold us
hostage in the still point of night, in the vast elusive dark
sinking sand, who salt-spray
our mouths open, after hiding the key, before
the deluge, before almost everything goes
under, the massive growing wall and its endless curl—
ii
My feet glow red as they thrust themselves out from blankets
even on the coldest night, and the tumbling disarray of
thoughts and too many pillows, are they mine? I think I hear silence
breathing, faster than light, pounding from the left side of my chest,
and there it is, what I do not want to frighten away from, the key
placed carefully on a shelf.
iii
In the San Francisco airport gates open like savage
eaters of all that's solid. So many hours to kill.
Let the hours and their expectations go. In the dream the women
are small, disfigured, colorful, and real and I am
one of them. And the bent-over crone who presses her finger like a key to my
forehead, devouring, filling, she is one of us.
Listen to the author read "Tsunami":
Provenance:  Submission.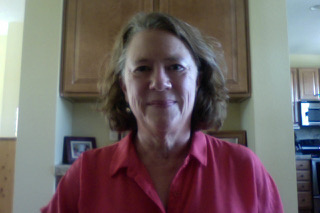 Martha Kalin has received awards for her poetry including a Hopwood Award from the University of Michigan and several fellowships from Virginia Center for the Creative Arts. Her recent publications include poems in Don't Just Sit There, and Obsession: Sestinas in the Twenty-First Century published by University Press of New England. Her chapbook, Afterlife and Mango, was published by Green Fuse Poetic Arts in 2013. She lives in Denver, Colorado.
"Suvarnabhumi Airport Bangkok, Thailand. Departure Hall" by Khaosaming is licensed under the Creative Commons Attribution-Share Alike 3.0 Unported license.