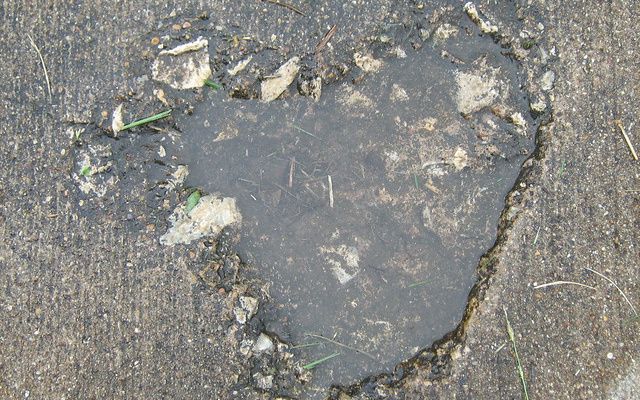 Mr. Rajewski's Heart 
He's fairly certain it wears a scarf of
     thorns and sports a circumcistic scar. It's
probably on fire, too, a blue flame, or else
it glows like a briquette—an
     aortaless, valveless, zero-intolerant, unexplaining
thing: a valentine of iron.
He likes to tell friends there's
     nothing so rare as a cancer of the heart.
Often his disappears for days at a time,
hiding like a rat in the high grass where the old
     movie theater used to be, nibbling on ancient
popcorn kernels and memories of love.
Sometimes it's in his breast pocket,
     inches from where it's supposed to be.
Sometimes it drops to the ground
and just stays there, a pear
     under a pear tree, attracting yellowjackets;
sometimes it flies up, a frightened lark.
Mrs. Rajewski's Tears
Les soupirs de la Sainte et les cris de la Fée
—Gérard de Nerval
She's the one standing over us as we sleep;
her tears fall on our exposed feet,
our folded hands, our torpid faces,
flooding our eye
sockets until they spill over.
                                                      When we wake up
we think the tears are ours which leads us
to believe our lives are more unbearable
than we know. That's when we ask:
when did we become the home for sorrows?
when did wildflowers start begging for explanations
and lawns turn white hot and mowers
sleep all day in their sheds
dreaming of suburban women?
when did storms get shoved down the throats of things
and heads and limbs fall on us like bombs?
when did highways shine like phonograph records
and ornamental pear trees with waxy leaves
and impotent fruit reach up instead of out,
offering us nothing much in the way of shade?
John Surowiecki is the author of seven chapbooks and five full collections of poetry; the most recent,Martha Playing Wiffle Ball in Her Wedding Gown (Encircle), was a finalist for this year's Connecticut Book Award.Other prizes include the Poetry Foundation Pegasus Award for verse drama, the Nimrod Pablo Neruda Prize,the Washington Prize, a Connecticut Poetry Fellowship, and the silver medal in the Sunken Garden National Competition. Also: his Pie Man won the 2017 Nilson Prize for a First Novel.  Poetry publications include: Alaska Quarterly Review, Carolina Quarterly, Folio, Gargoyle, Margie, Oyez Review, Mississippi Review, Poetry, Prairie Schooner, Redivider, Rhino,The Southern Review, Tupelo Quarterly.